Burning Man's Future Uncertain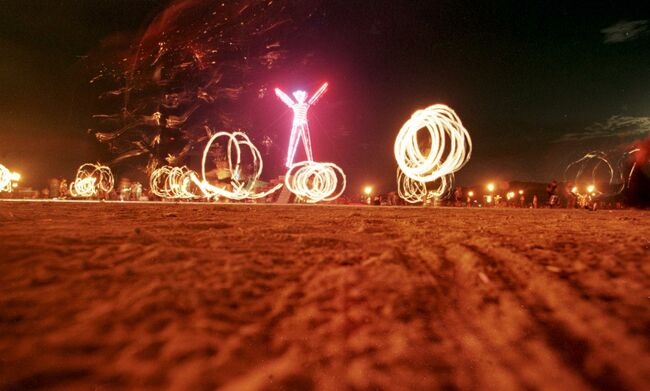 Burning Man is growing more popular every year as the week long August arts festival attracts more than 80,000 people annually. The future is uncertain after a government proposal to build a wall around the grounds in Black Rock City, in the middle of the Black Rock desert, is introduced.
If you've never been to Burning Man, it's difficult to understand what the festival IS and what it ISN'T. That's because it is what you want it to be and the definition will be different for any person you ask. It's a gathering of every type of personality to express themselves how they freely feel they want to. Nothing is commercialized and everything that happens at Burning Man is put together by the people who attend it.
I'm hesitant to call it a "festival" since you'll get reprimanded by saying that word while there. It's more of a "community" that builds a temporary city called "Black Rock City". After the week-long gathering is over and everything is burned, the desert floor once again becomes nothing for miles.
The Nevada Government and Nevada Bureau of Land Management is saying this isn't the case any longer as Burning Man gains popularity each year, and has proposed building a 10-mile long wall around the location that is to be paid for by Burning Man organizers. Why do this? Increased need for security and trash blowing away from the grounds are causing concern more and more each year. Building a wall around the location would help with security concerns and also keep the garbage within the walls and not blowing around the desert and around the state.
This proposal is concerning to fans of Burning Man as well as its organizers as it would heavily take away from the experience that it is, and would likely "kill" or "negatively change the fabric of" the event, according to Business Insider.
The future of BRC is at risk. The BLM has recommended untenable changes to our permit. Some proposals are in direct conflict with our core values & would forever negatively change the fabric of the event, if not kill it. We need your support—and quickly.https://t.co/b0TKN6w4ua

— Burning Man (@burningman) April 5, 2019
Burning Man has been held yearly since 1990 and grows in popularity every year. The event is heavily supported by many elite tech executives, that include Elon Musk, Google co-founders, and Mark Zuckerberg just to name a few. Those who plan to attend Burning Man are urged to understand the 10 core principals of the event before deciding to partake in the festivities. One of the principals is to "leave no trace"...something that may need to be re-stressed this year if the fight to keep a wall from being built is to be successful.
I have many friends who attend Burning Man and have massive involvement in it each year. Personally, I've never attended but have a desire to. It's difficult to understand the massive presence of it without having experienced it. I can't imagine being forced to enter a secured wall to get into this experience and would likely take away any interest in going to it. Barry Allen
Want to know more about Barry Allen? Get their official bio, social pages & articles!
Read more